Bitcoin Price Prediction 2022 -2030 | Is BTC a Good Investment?
In this guide, we will voice our own and market's opinion on BTC future while discussing Bitcoin price forecast for 2022 and beyond.
Please bear in mind that you should take this and any other prediction with a grain of salt since predicting anything is a thankless task, let alone predicting the future of a novel, highly volatile financial asset like Bitcoin.
Now, let's head into it. Before we delve deep into the Bitcoin price prediction and answer questions if BTC is a good investment or not, why will BTC succeed or fail or why will Bitcoin price rise or drop, let's quickly throw a glance at what is BTC and its to date history.
If we are honest, bitcoin is still, for the most part, a favorite toy of experienced and less experienced speculators but number of builders is burgeoning as well. The surrounding ecosystem and infrastructure is being built at blinding pace while brand presence and recognition are hitting all time highs, especially among the younger generation.
Have a look at some of the best bitcoin bots that can earn you money while you sleep.
The old establishment, comprised of mostly old white men, is still yelling at bitcoin, throwing jabs, insults and calling for a ban (best evidence of their glaring lack of understanding of how bitcoin works). Luckily, biology is on bitcoin's side – the old ruling class and archaic technologies they cling on are dying off, making room for new ideas and technologies.
Bitcoin already owns real estate in the heads of the upcoming decision makers and wealth holders and it is only question of when, not of will, bitcoin enter the mainstream financial world.
Let's take a look at historic price action and then the fundamental forces that will propel bitcoin upwards in 2022.
We can divide the fundamentals into two categories: protocol enhancements and ecosystem/infrastructure construction.
Bitcoin Price Prediction
The whole crypto market is currently on the verge of a real bull run. There is no broader consensus as crypto analysts are divided as some of them are still calling this market a bull trap. Others, lead by famous on-chain experts like Will Clemente and Willy Woo, are calling this a preparation stage for a face-melting bull run. As always, bitcoin has the final say and altcoins will follow suit once the flag bearer decides the direction. Right now, Bitcoin is sucking the life out of altcoins but once it settles in the new price range, altcoins will start to pump – we have witnessed this scenario dozens of times in the distanced and more recent history. Our price prediction model is bullish for the next 90 days with a hint of a bear market at the turn of the year. We expect whales and other bigger players in the market to take their profits around that time which will cause a typical and sudden crypto crash. CaptainAltcoin team created a price prediction model with a multi-faceted approach to crypto that takes into account both technical analysis and fundamental assessment of each project. Fundamentals that we evaluate are team, tokenomics, use case, community, marketing efforts, liquidity and exchange availability, hype & speculative potential and some other proprietary factors developed in our crypto lab.
BTC Price Prediction For The Next 90 Days 
Below is a tabular overview of how will BTC develop in the short-term (for the next 90 days), according to our prediction model:
2021-11-25
-0.91 % $ 55800.37
2021-11-26
+2.02 % $ 57451.46
2021-11-27
+6.95 % $ 60230.81
2021-11-28
+4.98 % $ 59118.46
2021-11-29
+5.01 % $ 59138.02
2021-11-30
+10.76 % $ 62373.00
2021-12-01
+13.89 % $ 64139.72
2021-12-02
+11.33 % $ 62696.05
2021-12-03
+14.99 % $ 64755.06
2021-12-04
+8.42 % $ 61056.22
2021-12-05
+15.83 % $ 65229.17
2021-12-06
+15.13 % $ 64837.89
2021-12-07
+7.00 % $ 60257.85
2021-12-08
+16.99 % $ 65884.61
2021-12-09
+9.71 % $ 61782.97
2021-12-10
+15.03 % $ 64781.17
2021-12-11
+17.45 % $ 66144.08
2021-12-12
+21.50 % $ 68423.58
2021-12-13
+13.42 % $ 63871.40
2021-12-14
+18.27 % $ 66603.16
2021-12-15
+15.93 % $ 65288.41
2021-12-16
+23.04 % $ 69290.29
2021-12-17
+16.61 % $ 65670.78
2021-12-18
+24.89 % $ 70331.78
2021-12-19
+21.01 % $ 68147.18
2021-12-20
+23.59 % $ 69599.42
2021-12-21
+26.86 % $ 71442.90
2021-12-22
+28.43 % $ 72327.85
2021-12-23
+23.94 % $ 69797.64
2021-12-24
+29.52 % $ 72940.33
2021-12-25
+19.17 % $ 67108.92
2021-12-26
+25.98 % $ 70947.54
2021-12-27
+20.91 % $ 68089.65
2021-12-28
+32.22 % $ 74461.44
2021-12-29
+22.34 % $ 68896.60
2021-12-30
+31.53 % $ 74069.60
2021-12-31
+31.45 % $ 74027.73
2022-01-01
+35.37 % $ 76234.72
2022-01-02
+35.76 % $ 76456.11
2022-01-03
+36.60 % $ 76929.02
2022-01-04
+26.85 % $ 71436.49
2022-01-05
+35.95 % $ 76560.81
2022-01-06
+35.63 % $ 76383.10
2022-01-07
+32.26 % $ 74480.38
2022-01-08
+38.50 % $ 77998.62
2022-01-09
+33.07 % $ 74941.21
2022-01-10
+37.79 % $ 77597.13
2022-01-11
+30.10 % $ 73265.11
2022-01-12
+39.36 % $ 78482.36
2022-01-13
+31.12 % $ 73841.40
2022-01-14
+31.21 % $ 73894.14
2022-01-15
+45.02 % $ 81668.76
2022-01-16
+34.00 % $ 75462.49
2022-01-17
+43.79 % $ 80975.05
2022-01-18
+47.23 % $ 82912.28
2022-01-19
+36.25 % $ 76729.40
2022-01-20
+48.60 % $ 83681.93
2022-01-21
+46.70 % $ 82616.45
2022-01-22
+40.63 % $ 79198.81
2022-01-23
+36.79 % $ 77034.47
2022-01-24
+42.14 % $ 80049.15
2022-01-25
+41.32 % $ 79587.65
2022-01-26
+49.95 % $ 84443.30
2022-01-27
+41.35 % $ 79601.97
2022-01-28
+43.93 % $ 81052.61
2022-01-29
+50.34 % $ 84663.91
2022-01-30
+55.01 % $ 87292.25
2022-01-31
+48.67 % $ 83726.76
2022-02-01
+46.31 % $ 82397.73
2022-02-02
+48.07 % $ 83385.50
2022-02-03
+45.79 % $ 82100.09
2022-02-04
+53.84 % $ 86633.90
2022-02-05
+44.65 % $ 81458.88
2022-02-06
+56.55 % $ 88159.69
2022-02-07
+47.15 % $ 82869.27
2022-02-08
+61.79 % $ 91113.18
2022-02-09
+59.85 % $ 90018.04
2022-02-10
+56.28 % $ 88010.04
2022-02-11
+51.79 % $ 85481.19
2022-02-12
+62.54 % $ 91533.18
2022-02-13
+57.67 % $ 88792.47
2022-02-14
+54.55 % $ 87035.10
2022-02-15
+63.09 % $ 91842.27
2022-02-16
+56.55 % $ 88162.78
2022-02-17
+59.28 % $ 89696.44
2022-02-18
+58.19 % $ 89085.41
2022-02-19
+56.14 % $ 87930.71
2022-02-20
+57.03 % $ 88434.84
2022-02-21
+68.83 % $ 95074.46
2022-02-22
+57.50 % $ 88696.73
.
Tax Calculators
Don't get in trouble with the government let these magic tools do all the heavy-lifting when it comes to your crypto taxes:
✔️Koinly
✔️Cointracking
✔️ZenLedger.
Trading Tools
A good charting tool is a must if you want to try yourself out as a day-trader. ✔️Tradingview is best known but
✔️Bitsgap
✔️Coinrule
✔️Cryptohopper
are also excellent plus they allow automated trading.
Bitcoin Price Prediction 2022 
Majority of experts agree that this bull run will be an extended one and could last the whole 2022. CaptainAltcoin's prediction model takes market sentiment into an account and reacts accordingly. Below is a month-by-month breakdown of 2022:
2022 Jan
+0.12 % $ 88805.35
2022 Feb
+8.63 % $ 96352.62
2022 Mar
+15.15 % $ 102136.39
2022 Apr
+21.20 % $ 107496.50
2022 May
+38.01 % $ 122413.27
2022 Jun
+35.35 % $ 120048.53
2022 Jul
+40.37 % $ 124499.57
2022 Aug
+52.47 % $ 135240.21
2022 Sep
+65.62 % $ 146896.23
2022 Oct
+66.09 % $ 147317.59
2022 Nov
+66.25 % $ 147460.89
2022 Dec
+80.95 % $ 160498.85
BTC Price Prediction 2025 
Our prediction model sees BTC reaching $ 591311.56 in 2025.
What will BTC be worth in 5 years?
The price of BTC in 5 years could lie around $ 245563.24, according to CaptainAltcoin's prediction model.
Bitcoin Price Prediction 2030 – 2040
What Bitcoin will be worth in 2030?
Our forecasting model sees Bitcoin reaching $1182623.11 in 2030.
What Bitcoin will be worth in 2040?
Our forecasting model sees Bitcoin reaching $2956557.78 in 2040.
Is Bitcoin worth buying?
We are advocates of moderately risky investing – invest most of your crypto portfolio in BTC (50%); 35% in a basket of big cap coins and the rest in small projects with huge upside. So, in this context, Bitcoin is worth buying.
Is Bitcoin a good investment?
Bitcoin is, just like all other cryptocurrencies, a risky investment. It does have higher probability of going up than down because of the good use case, well-designed tokenomics, active community and a solid team behind it.
If you would have bet on the right coins this year you could easily have 10xed your capital…
You could even have made as much as 100x which means you could have turned $100 into as much as 10k.
Experts believe this will happen again in 2021, the only question is which coin do you bet on?
My friend and cryptocurrency expert Dirk is personally betting on 3 under-the-radar cryptocurrencies for huge ROI in 2021..
Click here to learn what these coins are (watch till the end of the presentation).
How much will Bitcoin be worth?
For the short-term future, it could reach $88696.73. In the long-term (8-10 years), it could jump to $1182623.11 or even higher.
Why will Bitcoin succeed and go up in price?
Bitcoin has a good use case, well-designed tokenomics, active community and a solid team behind it. All of these are a prerequisite for success and that is why our prediction model sees Bitcoin rising up to $1182623.11 in 2030.
Why will Bitcoin fail and drop in price?
Crypto projects fail for various reasons. Some of the most common ones are: team goes rogue and abandons the project, regulators declare it illegal and press exchanges to delist it, lack of media attention, more successful competitors, lack of well designed marketing strategy, losing community support, potential vulnerability in the protocol, failing to achieve anticipated minimum developement activity on the protocol, failing to attract new developers to build on their platform.
How high will Bitcoin go?
Our forecasting model sees Bitcoin price exploding and reaching $2956557.78 in a distant future.
Can Bitcoin make you a millionaire?
Yes, if you buy large enough sum of it. Do not expect to invest $100 and become a Bitcoin millionaire. But 100x price explosions are a common sight in crypto, so a $10k investment in Bitcoin could make you a millionaire.
FAQs On Bitcoin Price Prediction
Will Bitcoin go up in value?
Depends on who you ask. Crypto enthusiasts definitely believe so and considering that the number of "crypto infected people" is growing by day, it is very likely that bitcoin will go up in value in the coming years.
Why is bitcoin going down?
Bitcoin is publicly traded commodity/currency, available for buy and sell orders non-stop and depending on the market forces, both internal and external – its price swings both upwards and downwards. However, overall long-term trend is positive and all price plunges are relatively short-lived.
Why is bitcoin going up?
Because it is being considered as a safe haven against traditional financial instruments and the number of people who believe so is expanding. And since any kind of money has value just because people ascribe it, bitcoin's value keeps growing proportionally to the number of people who see it as valuable.
Is it smart to invest in Bitcoin?
It depends on your investing profile, are you a long term or short term investor. Regardless of your investing affinities, it is highly recommended for you to do thorough research before making any investment decisions. 
Can Bitcoin hit a million?
If bitcoin does reach $1 million per coin, that would mean complete crash of the current economic order and an utter paradigm shift in people's perception of economy and financial systems. And that is within the realm of possibility in the next 10 years.
Can Bitcoin be exchanged for real money?
Of course – you can exchange it on various crypto to fiat exchanges or sell it face-to-face to someone who is willing to pay you.
What will Bitcoin be worth in 2022?
According to some analysts, Bitcoin might reach $123,500 by 2022 end.
What was Bitcoin's lowest price?
The lowest price recorded was in October 2010, when Bitcoin was just starting out and was worth less than a dollar and cost $0.125, and in 2011February to April, it was trading at $1.00.
What will be Bitcoin's worth in 2030?
Number of price prediction analysis that see Bitcoin rocket way above $500,000 by 2030 is increasing.
Can Bitcoin be converted into cash?
Yes, either on crypto ATMs or buy selling it on exchanges and then withdrawing to your bank account.
Is Bitcoin safe and legal?
Bitcoin is yet to be regulated in most parts of the world but stories about positive legal frameworks developed around bitcoin and crypto are popping out with increasing frequency. It is not illegal, with exemption of couple of fringe world countries.
How do I start buying Bitcoins?
You can go here directly to start buying Bitcoins.
Protocol enhancements
Freelance journalist Ian Edwards wrote an excellent piece on bitcoin protocol improvements that you can read here. Here is the excerpt with most important developments. It is worth noting that prolific bitcoin developer Pieter Wuille unveiled two Bitcoin Improvement Proposals (BIP) on May 6th that offer plans that could prove foundational to a possible upgrade to the cryptocurrency.
Wuille's first BIP describes a "new SegWit version 1 output type, with spending rules based on Taproot, Schnorr signatures, and Merkle branches."
While the second describes "the semantics of the initial scripting system under bip-taproot."
Below are most important protocol developments which are being worked on right now, with no firm deadlines when will they get implemented.
MAST
MAST, short for Merkelized Abstract Syntax Trees, proposes to improve Bitcoin by changing how smart contracts are written to the blockchain. In effect, it allows smart contracts to be split into their individual parts. This has several benefits in terms of privacy, transaction size and allowing for larger smart contracts. There are excellent articles about MAST here, here and here. There is no set timeline for its implementation.
Schnorr signatures
Schnorr signatures, named after their inventor, Claus-Peter Schnorr, are a proposal to replace Bitcoin's current digital signature algorithm (ECDSA) for a more efficient one. The first way they will improve the bitcoin protocol is that they will allow for the aggregation of multiple transaction signatures into a single signature.
This would make transaction sizes smaller in these types of transactions, and could reduce transaction's use of storage and bandwidth of the Bitcoin network by around 25%.  Second, Schnorr signatures would increase of the privacy of multisig transactions by aggregating signatures in these transactions, thereby masking the original signatures.
Bulletproofs
Bulletproofs promise to improve the privacy of Bitcoin by concealing quantities of transactions, while still leaving the sender's and reciever's wallet addresses public. They are already implemented on Monero while Bitcoin implementation is still pending and according to Wuille " "far too premature to propose for inclusion into Bitcoin." 
Confidential Transactions
Confidential Transactions (CT) would keep the amounts of Bitcoin transactions visible only to participants in the transaction. 
Sidechain Projects
Sidechains are intended to allow other blockchains to connect to the Bitcoin network using a separate coin that is tied to bitcoin. This means that each sidechain is a separate blockchain that can have different rules from the Bitcoin mainnet while still remaining connected to it. There are several different sidechain proposals under development currently: Liquid Network, RSK and Drivechain.
Liquid Network
Liquid is a private sidechain, so there is some control over who can access it. The benefits of Liquid are that it allows instant transactions, privacy (Confidential Transactions are built in) and the ability for users to hold Liquid funds outside of an exchange.
RSK
RSK is a sidechain that plans to bring smart contract functionality and near instant payments to the bitcoin network. Like Liquid, it uses a federated system, with custodians tracking the movement of bitcoin between RSK's network and Bitcoin's mainnet. It does this by using a token called SBTC (smart bitcoin), which is pegged to BTC at a 1:1 ratio.
Drivechain
Drivechain plans to allow for multiple blockchains to be linked up to Bitcoin's mainnet. Like RSK, Drivechain sidechains built can be secured by Bitcoin miners using merged mining. Unlike RSK, Drivechain is flexible, and developers could create sidechains tailored to the specifications they want, such as larger block sizes or privacy features. 
Mimblewimble
Mimblewimble is a proposal for a bitcoin-like blockchain which claims to provide higher security than the current Bitcoin protocol, improved scalability, a different kind of cryptographic security and ASIC-resistant mining algorithm to encourage mining decentralization.
Lightning Network
Of course, there is the highly contentious Lightning Network project, the long awaited layer 2 scaling solution that bears a lot of bitcoiners' hopes and attracts a lot of disputes and detraction from other camps, mostly from bitcoin forks like BCH and BSV.
Lightning Network, has seen significant growth last year. The first Lightning implementation developed by Lightning Labs launched in beta in March 2018. 
In a little over a year since being live on mainnet, there are now nearly 4,300 nodes with active channels and about 38,000 total channels. The steeper node growth in the last three months could potentially be connected to the release of the Casa Lightning Node, which made running a node significantly easier for a regular non-technical user.
It's also worth pointing out that the average number of channels per node has been steadily increasing throughout the last year. Also the capacity of nodes and overall network has been increasing over the last year to the current 1,079 BTC (more than $6m) locked up in nodes and channels.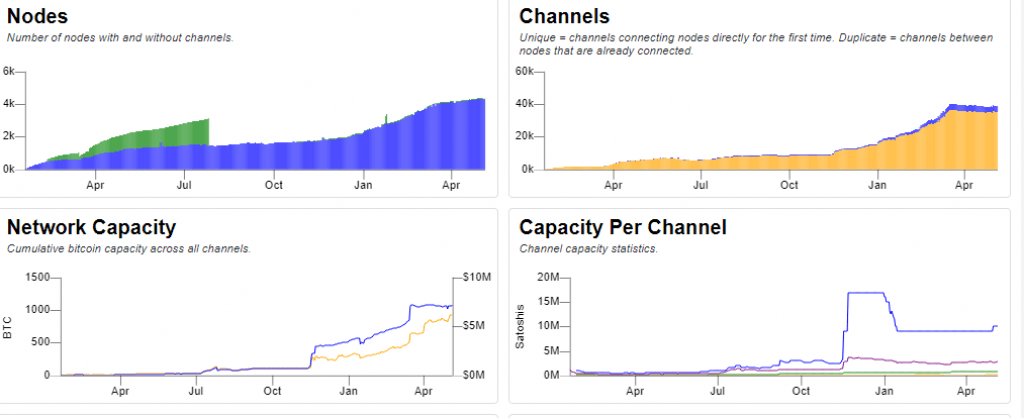 Ecosystem and Infrastructure
Regulations
It's no secret that one of the impediments to institutional investors entering the crypto space is the need for a suitable regulatory framework; hedge funds can't simply invest their clients' funds in the same free-and-easy manner as a retail investor.
Regulation is not a crypto killer. Regulation will provide much-needed clarity to investors big and small, as well as the entities issuing the coins themselves. People can start to focus on how these assets can best be leveraged to diversify portfolios, transfer money overseas, and improve business models, instead of looking over their shoulders in fear of running afoul of the SEC. With increased regulation, increased adoption will follow, particularly among those for whom due diligence is paramount. Financial institutions will be able to confidently bring these investment options to their clients, pension funds can incorporate cryptocurrencies into their long-term holdings — the applications are endless.
This article of ours covers bitcoin regulations and current legal frameworks around it, worldwide.
Famous Backers
Jack Dorsey is the CEO of Twitter and has been showing its support for Bitcoin (BTC) and the Lightning Network .
Steve Wozniak is known for co-founding Apple, one of the largest companies in the world. Wozniak said that Bitcoin will become the world's currency.
There is another Bitcoin bull in the market, Peter Thiel. The venture capitalist has already bet on Bitcoin and the possibility for it to become a gold-like safe haven. During a conversation with CNBC, he said that he would be long Bitcoin and neutral of everything else.
Tim Draper, a recognized venture capital investor, has been participating in the crypto market for a very long time. He invested in Bitcoin when it was traded under $1,000 and it has also made very bullish predictions for the future of this digital asset.
Ashton Kutcher has been an outspoken advocate for Bitcoin and he invested in a sports betting blockchain, UnikoinGold, along with billionaire, Mark Cuban.
Cryptohopper is by far one of the best automated trading bots in the market. Read our review here.
Joe Rogan said that he is fascinated by the idea, but haven't given bitcoin his full attention, but he thinks it could really shake up the global economy.
The current sentiment in the Bitcoin community is positive and technical improvements along with overall ecosystem growth are foretelling a bright future going forward. The technical indicators are signaling an upcoming bullish run and with more people understanding the unique features and advantages of bitcoin over traditional system. While past performance is not a great indicator for future price, the fundamentals underlying Bitcoin may well see it soar in the near future to $200,000 USD crossing its all-time high price.
Read also: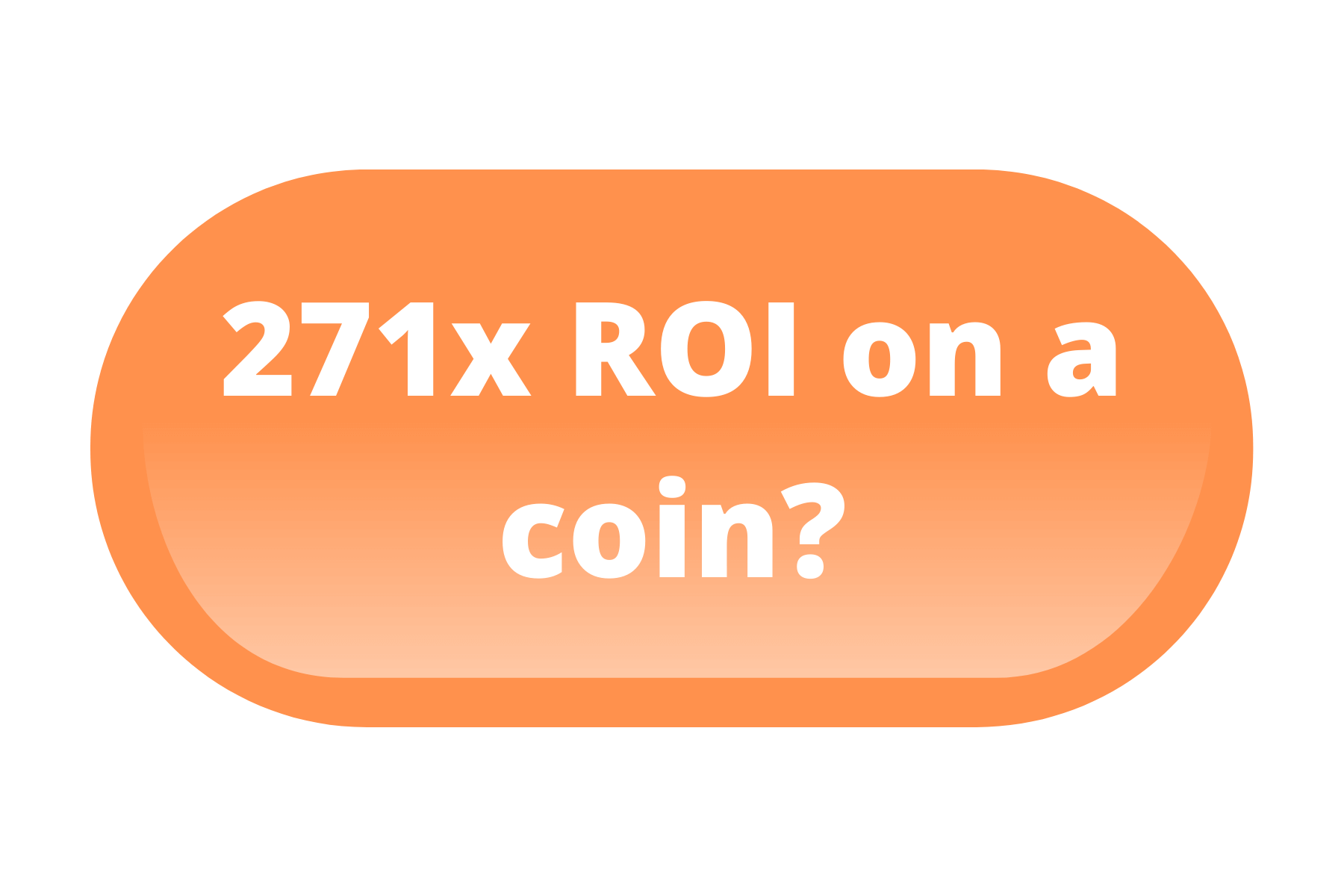 CaptainAltcoin's writers and guest post authors may or may not have a vested interest in any of the mentioned projects and businesses. None of the content on CaptainAltcoin is investment advice nor is it a replacement for advice from a certified financial planner. The views expressed in this article are those of the author and do not necessarily reflect the official policy or position of CaptainAltcoin.com
Source link